A light, crispy salad with a combination of sweet, sour and spicy to welcome the warm weather. It has shrimp, cucumbers, bell peppers, shallots, chili peppers, Thai basil, and cilantro. The sauce contains lime juice, fish sauce and palm sugar. This salad is great to have as an appetizer or entree. You can substitute the shrimp with shredded chicken, beef or tofu.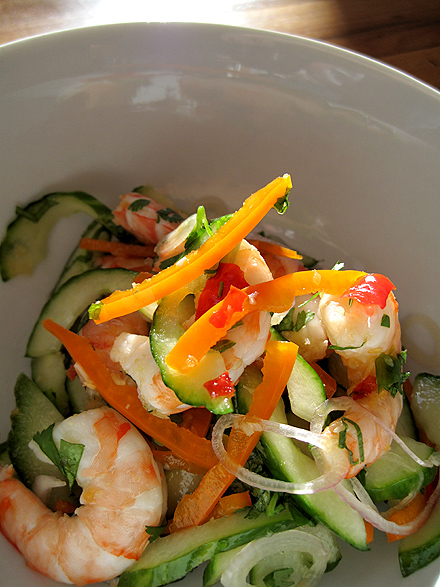 serves 3-4
ingredients

| | |
| --- | --- |
| 2 | lbs. shrimp with shells on |
| ½ | cup Japanese cucumbers – halved, seeded, thinly sliced (substitute with English cucumbers or any other type if not available) |
| ½ | cup orange bell peppers – sliced (use yellow, red or green if orange is not available) |
| ¼ | cup shallots – thinly sliced (or substitute with red onions) |
| ¼ | cup garlic – minced |
| 2 | Tbsp. Mint – chopped (or substitute with perilla leaves) |
| 2 | Tbsp. Thai basil – chopped |
dressing
3
Tbsp. fish sauce
2
Tbsp. lime juice
2
Tbsp. rice vinegar
1
Tbsp. palm sugar (or substitute with 2 teaspoons white sugar, 2 teaspoons brown sugar)
1
Tbsp. minced garlic
1
tsp. fresh grated ginger
3-4
Thai peppers thinly sliced or minced (very hot – for milder sauce substitute with one Serrano pepper or one medium Jalapeño pepper)
1. shrimp
Bring 4 cups of water to a boil or just enough water to cover shrimps. Cook uncovered for only 3 minutes or until shrimp are pink and curl to resemble the letter "C". Immediately drain shrimp into colander. Chill shrimp in a bowl of ice cold water. After 2 minuets, drain, peel, and devein shrimp – then set aside.
2. cucumber
Peel, half, deseed (easiest way to remove seeds is to scoop out with spoon), and slice the cucumbers into thin slices about an 1/8th of an inch and set aside in separate bowl.
3. shallots, garlic, and bell peppers
Thinly slice shallots. Mince garlic. Then add to bowl with cucumbers.
4. cilantro, mint, and Thai basil
Roughly chop and put in bowl with cucumbers.
5. peanuts
You can either roast peanuts in a pan on the stove or you can broil in the oven. Keep an eye on them while they cook. Peanuts have lots of natural oil and will burn fast if you cook them for more than a few minutes.
Roasting options:
Dry roasting: Roast peanuts in pan with no oil on medium high heat until fragrant and light gold brown.
Broil in oven: Place peanuts in oven tray on top rack (or second top if you're afraid they'll burn) and broil on high for a couple minutes until golden brown.
After the peanuts are done roasting, let them cool for a couple of minutes. Then, roughly chop or pound peanuts using a mortar and pestle.
6. dressing
Combine all ingredients listed above under "dressing" in a bowl and mix well. If you have a mortar and pestle, pound garlic and peppers together before adding them to sauce. Add more sugar or rice vinegar to taste. If you want more heat, add more peppers.
7. final steps
Add shrimp to the bowl with cucumber and herbs and then pour in dressing. Sprinkle in roasted peanuts – toss well and enjoy.